In 2014, Bilateral South-South Cooperation in Ibero-America, in which countries are active as both recipients and providers of cooperation, accounted for nearly 900 initiatives (552 projects and 333 actions). Argentina, Brazil, Mexico, Colombia and Uruguay topped the list of the 15 providers, while El Salvador, Bolivia, Costa Rica, Peru and Uruguay were the main out of the 19 countries receiving cooperation.
The bulk of the 552 projects focused on the productive sectors of the economy (40%), such as agriculture or industry, and on the social sector (30%), such as health. Institutional strengthening, economic infrastructure and services, the environment, culture and gender, were other noteworthy areas.
"We no longer have a donor-recipient relation in which industrialized countries transfer resources to developing countries," said Rebeca Grynspan, the Ibero-American Secretary-General. In explaining a core virtue of South-South Cooperation, she added that "today, countries can simultaneously be active as donors and recipients of cooperation. Indeed, most Ibero-American countries are both, as we can all learn and contribute together. This is true especially for our region."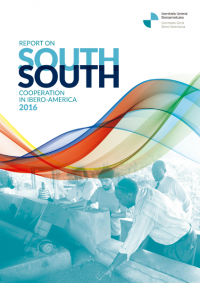 The report also highlights the progress made in Triangular South-South Cooperation, where countries, and also organizations, are active as second providers. This form of cooperation has increased ninefold since the first edition of the Report (21 projects or actions in 2006 vs. 183 in 2014), growing at an average annual rate of 27%. Chile, Brazil and Argentina were the leading first providers of Triangular SSC in 2014, while Spain, Germany and Japan were the leading second providers, with El Salvador, Peru and Paraguay as the main recipients. The initiatives were geared towards the social and productive sectors, institutional strengthening and the environment.
Innovations
The ninth edition of the Report coincides with the efforts to advance the Development Agenda and achieve the Sustainable Development Goals (SDGs) by 2030. The Report takes up the challenge of aligning itself with the targets outlined in the new Sustainable Development Agenda to achieve the SDGs. It has identified direct contributions to 9 of the 17 SDGs: related to people (Zero Hunger, Good Health and Welbeing), prosperity (Decent Work and Economic Growth and Industry, Innovation and Infrastructure), the planet (Responsible Consumption and Production, Climate Action, Life Below Water and Life on Land) and justice (Peace, Justice and Strong Institutions).
Furthermore, the 2016 Report includes a new chapter on Ibero-American South-South Cooperation with other developing regions. Given the Ibero-American countries' increased capacities to find concrete solutions to the sustainable development challenges facing Southern countries in various parts of the world, this chapter will likely be a regular feature of future Reports.