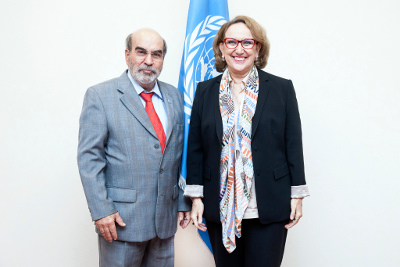 FAO and the Ibero-American General Secretariat (SEGIB) agreed to intensify their collaboration in helping national parliaments contribute to the battle against hunger and malnutrition in Latin America and the Caribbean.
Director-General José Graziano da Silva and SEGIB Secretary-General Rebeca Grynspan renewed a cooperation agreement set up in 2006. The primary objective of the partnership is to promote joint work aimed at helping achieve the Sustainable Development Goals, in particular SDG2, which pledges to "end hunger, achieve food security and improved nutrition and promote sustainable agriculture".
"We'll bring FAO's ideas and proposals on how to fight hunger to parliamentary assemblies" in the region, said Grynspan after meeting with Graziano da Silva, held on 3 October. "FAO will be given a privileged space in SEGIB's next Parliamentary Forum, whose conclusions will be brought to the next Ibero-American Summit of Presidents and Heads of State", she added.
FAO and SEGIB agreed to develop a working plan ahead of the next Ibero-American Summit, to be held in La Antigua, Guatemala, in November 2018 under the theme "A Prosperous, Inclusive and Sustainable Ibero-America".
The joint work will focus on three primary areas: bolstering collaboration on legislative work aimed at eradicating hunger; South-South Cooperation in the fields of agriculture and nutrition, with a special emphasis on healthy diets; and strengthening collaboration between member states in areas of mutual interest.