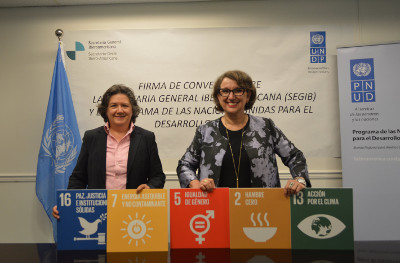 The aim of the agreement is to promote the exchange of information, analysis and policy recommendations to advance the Sustainable Development Goals in the countries of Latin America and the Caribbean, in the context of the 2030 Agenda.
The Memorandum of Understanding (MoU) was signed by SEGIB Secretary General , Rebeca Grynspan, and UNDP Regional Director for Latin America and the Caribbean, Jessica Faieta.
The agreement focuses on the analysis and discussion of the implementation of the SDGs, particularly to promote peaceful and inclusive societies for sustainable development, and to facilitate and create effective, accountable and inclusive institutions at all levels (Goal 16).
In addition, it encourages the promotion of the recently published Human Development Report (HDR) for Latin America and the Caribbean "Multidimensional Progress: Well-being beyond income" in Latin American countries.
The agreement also recognizes and reinforces the joint cooperation to contribute with Ibero-American Summits, as the next one to be held in late October in Cartagena, Colombia, which theme is Youth, Entrepreneurship and Education.
"To achieve the ambitious goals laid out in the 2030 Agenda we need to take a multidimensional perspective, beyond income", said Jessica Faieta. "Our path towards  the SDGs means reaching out to the most disadvantaged groups, such as indigenous peoples , Afro-descendants , women and youth, with a view to sustainable and holistic wellbeing. This approach is already under construction by thousands of actors and we have the support of our partners, in all countries of the region."
The Ibero-American Secretary General emphasized the collective effort that will be necessary to achieve the ambitious agenda of the SDGs. "The 2030 Agenda requires a collaborative effort as we have never seen before. We need to establish a close dialogue, dynamic, innovative, open, that builds confidence and enables important agreements. We also need consistency: a global agenda requires a global mindset. It requires that countries and people understand that we share a responsibility with each other, and with the planet we live in", said Rebeca Grynspan.